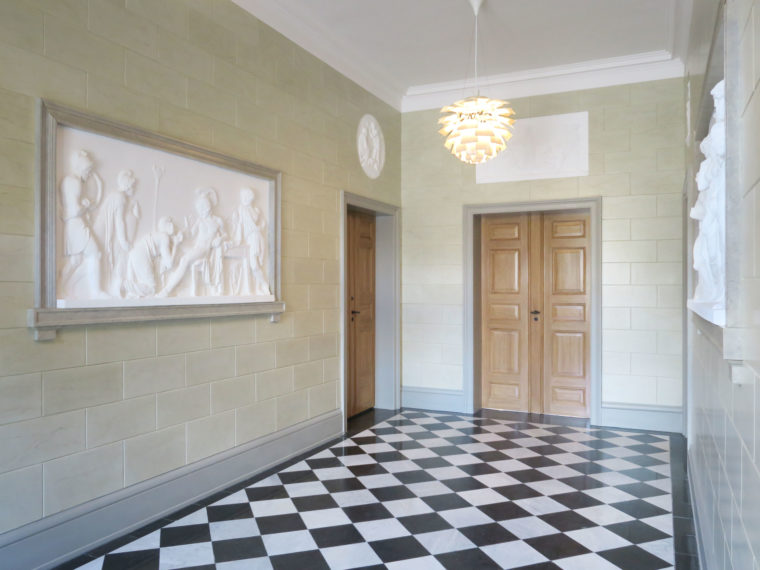 Back to project overview
Carlsberg Academy – Vestibule
For the Carlsberg Foundation, Elgaard Architecture is carrying out restoration, refurbishment and technical upgrading of Carlsberg Academy, which the brewer J.C. Jacobsen (1811-87) erected as a home for himself and his family in 1847-53 (the main house, incl. the Winter Garden) and 1876-78 (the greenhouse Pompeii). The first part of the restoration included four lavatories with anterooms as well as cloakroom, vestibule and distribution corridor, among others.
Facts
Theme
Restoration and redecoration of cloakroom, toilets and anteroom. Restoration of vestibule and distribution corridor.
Client
The Carlsberg Foundation
Partners
Sweco Danmark, Tuxen Design/Marianne Tuxen, Nationalmuseet, Spaabæk Konservering/Lin Spaabæk, Teknologisk Institut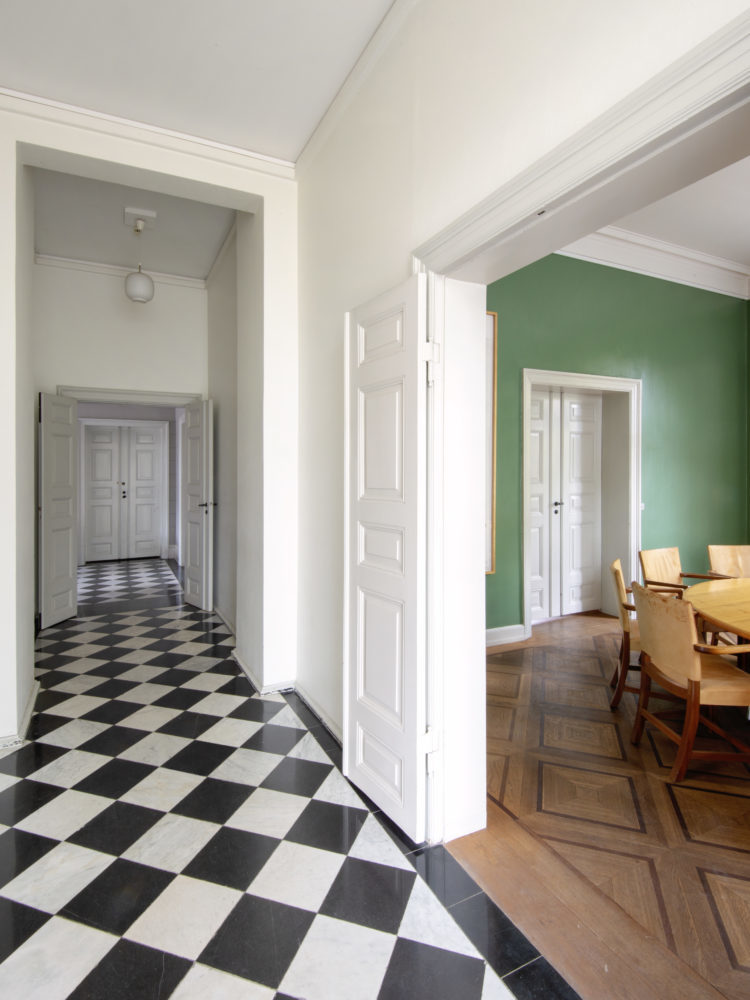 Before: The distribution corridor before the restoration - the transition between the corridor and the green living room. The colour scheme with white painted walls and doors was far from the house's original historicist atmosphere. By means of colour archeological investigations, it was possible to trace the pigments from the building's construction, so that the colour scheme from the time of J.C. Jacobsen could be re-established.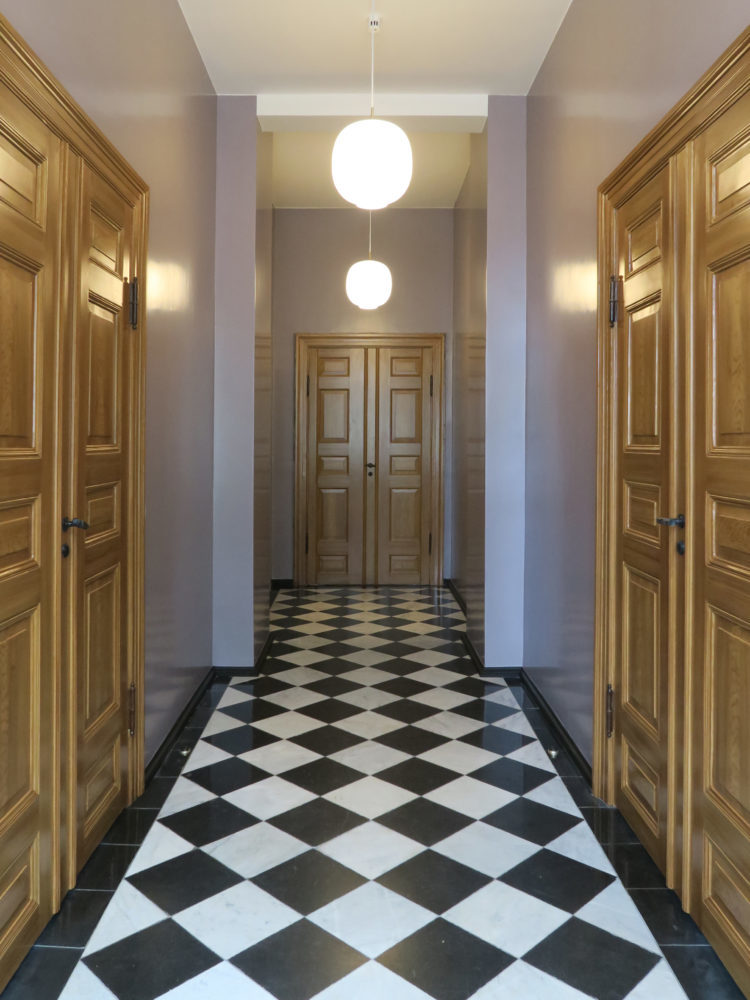 After: The distribution corridor after the restoration. The original colour scheme has been restored in linseed oil paint, and the grained doors have been recreated. Repairs have been made to the marbled floor. The lighting was designed by designer Marianne Tuxen.
"During the preliminary investigations, interesting colour archeological findings such as marbled walls, grained doors and hidden slate walls emerged."
The graining of the doors at Carlsberg Academy is carried out according to old techniques.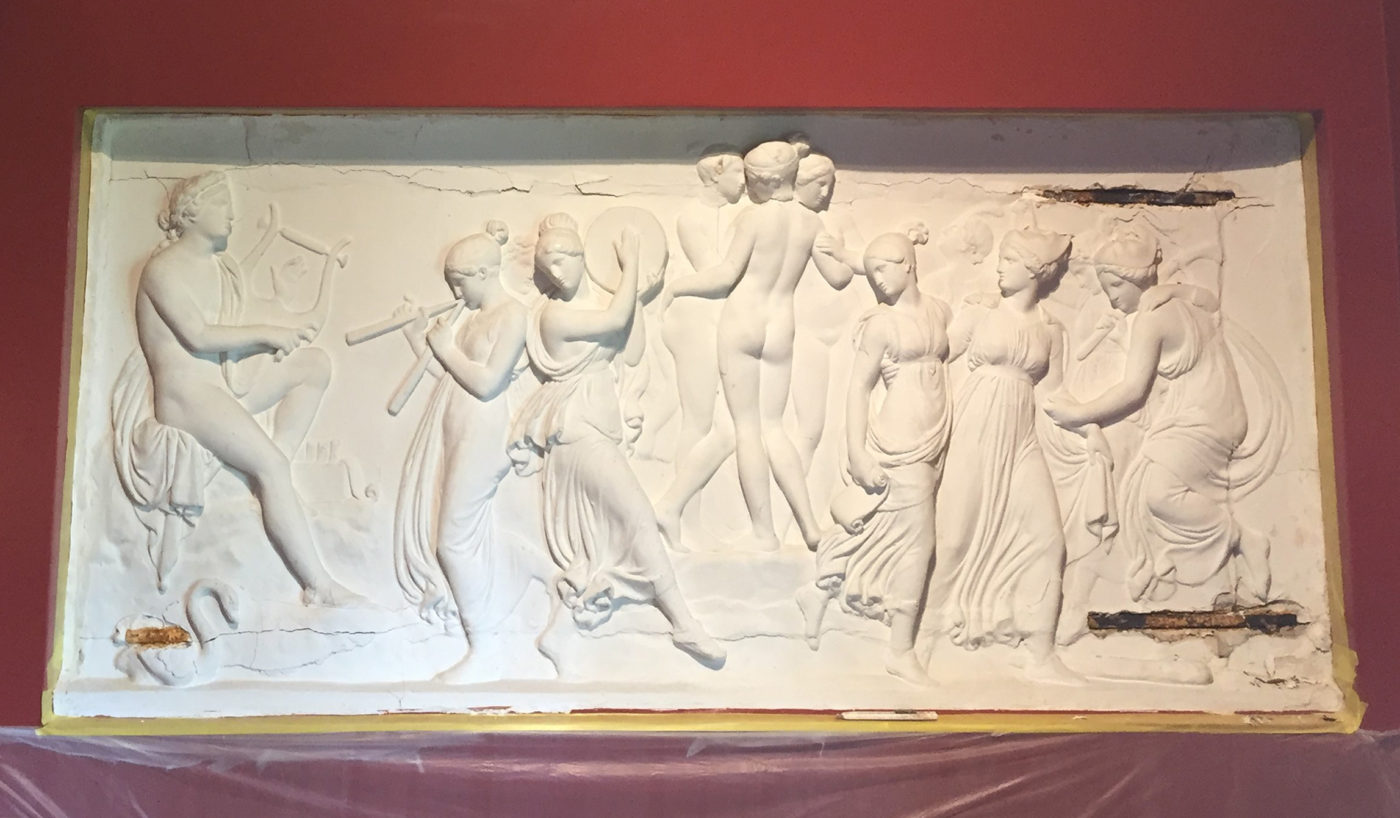 For decades, the villa's reliefs by Bertel Thorvaldsen (1770-1844) were covered with thick layers of paint that obscured the details of the motif.
"Conservators, painters and plasterers have uncovered and restored the beautiful interiors of the past, which over time had been obscured."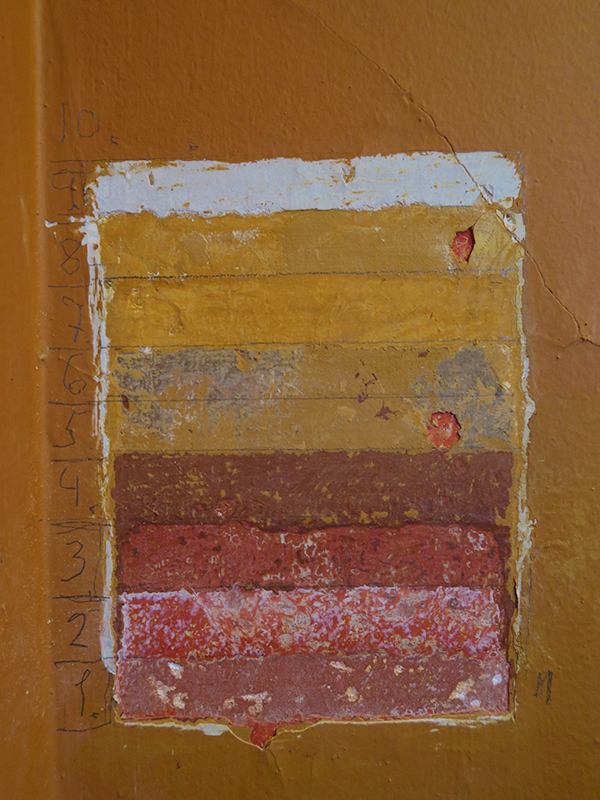 "Colour scale", uncovering of successive previous colour layers, made by the conservator. Layer #1 shows the original colour of the Italian red pigment mixed with white, which has now been recreated.
The Brewer's Home
Carlsberg Academy is better known by most as the Honorary Residence, but it was originally built as brewer J.C. Jacobsen's (1811-87) private home in Italianate villa style in the years 1847-53 near the old Carlsberg Breweries on Valby Bakke in Copenhagen. The villa include the greenhouses Vinterhaven (1853) and Pompeii (1876-78).
As the brewer was very enthusiastic about Italy's ancient art and culture, he acquired a number of the famous Danish sculptor Bertel Thorvaldsen's works for his house such as reliefs and portrait medallions. Today, the brewer's beautiful home houses symposia and conferences under the auspices of Carlsberg Academy.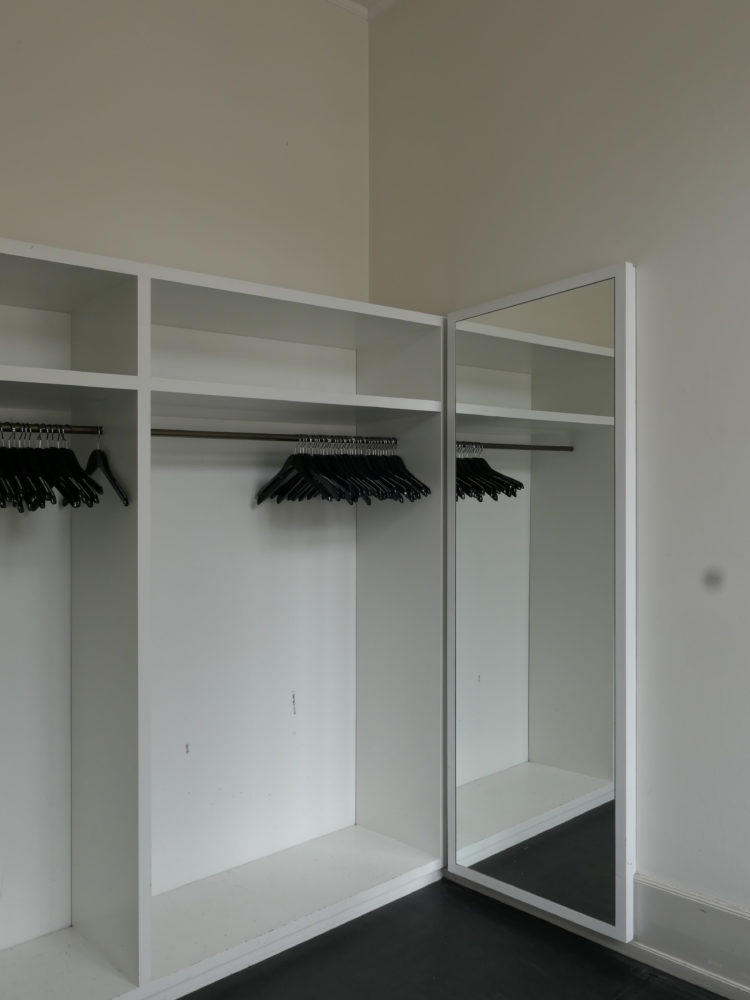 The cloakroom before the restoration
The cloakroom after the restoration. Custom-made, forged brass furniture has been applied, the old linoleum floor has been replaced with a marble floor corresponding to the other floors in the building, and the grained woodwork has been restored. Tuxen Design has designed both the brass wardrobe with lights and the mirror in the wardrobe.