14 October 2021
The staircase as a design element is an essential part of a house, and we probably all remember a staircase that has made a big impression on us. Its steps constitute a small pause, a comma, before we continue in a given direction. They go up and down, with high or low steps, and with their appearance convey a whole host of signals, all of which are united by the function of the stairs: the transition from one place to another. The main purpose of a staircase is to connect a level difference. Yet the design of even the simplest staircase is complex and requires great knowledge, experience and ingenuity.
New Staircase Design Supports the Cultural Heritage
Staircases can sometimes pose a technical challenge, but they can also help solve logistical and functional dilemmas and thus be applied as conscious elements to support and reinforce the significant conservation values ​​of a building.
During our restoration and development of the historic listed and preservation-worthy properties in Havnegade 21-27 in central Copenhagen, we have worked with 15 staircases and also recreated two historic stairwells. Overall, we have strengthened the cultural heritage by using it as a framework for the new staircase design. The function, character and design of the staircases are very different, and consistent to all of them is the fact that we have worked strategically with their design in order to solve logistical, fire technical or functional challenges to achieve the greatest possible flexibility for the client.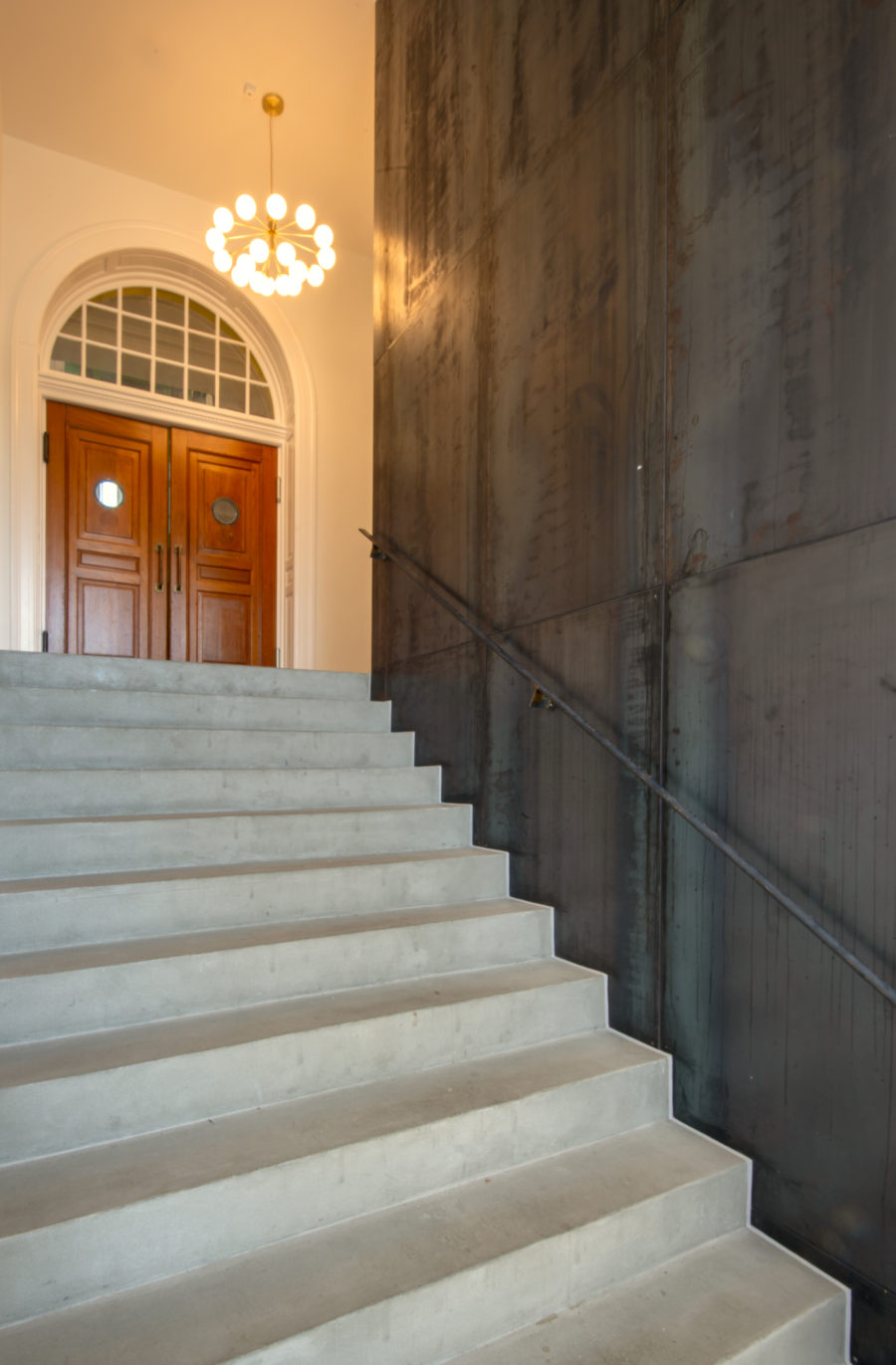 By for instance recreating a new staircase that plays on elements from the original one, we have created greater flexibility in the buildings' internal logistics and hence also flexibility for the developer in terms of letting of the commercial leases on all floors. In another of the stairwells, fine iron constructions have been brought to light again. They were previously wrapped in plaster as a fire precaution measure, as this staircase was the only escape route.
We have worked with the staircases and entrances as strategic elements in order to meet contemporary functional requirements.
Elsewhere, we have recreated a stairwell with a new, cast arrival staircase – and a platform lift – to improve accessibility and flexibility on all floors of the building. It has made visible the connection with an already existing and now restored main staircase, decorated by the Danish artist Poul Gernes, which previously did not come into its own due to previous renovations.
We have worked with the staircases and entrances as strategic elements in order to meet contemporary functional requirements, while at the same time the logistics and original character of the houses have been reinforced.
By Associated Partner, Architect Mikael Schilling